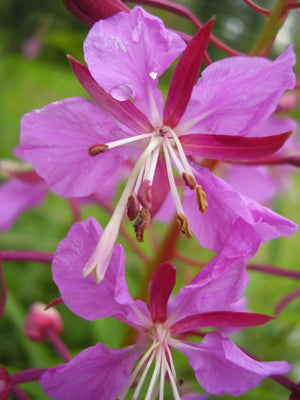 Fireweed Native Wildflower
Sale price Price $6.95 Regular price Unit price / per
Fireweed is a perennial wildflower that grows up to a height of 5 feet and produces small pinkish-purple flowers on attractive spiky stalks. The seeds form on plumes of "fluff" and will be supplied still attached to the fluff for optimal handling without damaging the seeds (see photo). Easy to grow, Fireweed also selfs seeds, making idea for covering large areas and meadows.

Fireweed is a unique addition to the garden and can also be used to make jelly. Fireweed flowers also attract bees and hummingbirds.

Fireweed is a medicinal plant that has been used for hundreds of years for it's soothing anti-inflammatory properties. The young shoots and flowers are edible and the leaves can be used to make teas and medicines. The leaves make a beautiful tea with notes of berry and citrus and provide a soothing, toning effect to the colon and small intestine.

Firewood is also used in land reclamation and stabilization. So many uses!

What do they need:
Full to partial sunlight, where soil is moist to slightly soggy. Beside a down spout or bog is ideal.